Thanks to our experience in interior decoration in Seville, once again at Vera Interiors we take up again the activity with the blog to share with you our knowledge about interior design. More specifically and taking into account its importance especially when the good weather arrives, we consider that it is the ideal moment to review some tips on decorating terraces. All of them are very simple and we are sure that they will help you to adapt and enjoy a new space, especially during the warmest months of the year, something that will delight your guests. From now on you will surely turn your terrace into one of the most attractive places in the home!
The best tips to decorate your terrace
Garden furniture
Whether it is to have some rest or to have a snack with family and friends, if you are thinking of creating an outdoor space that makes it possible to take advantage of the maximum hours of sunshine, it is necessary to make a small investment that obviously begins with garden furniture. As a complement they are essential, while fortunately there are countless different models on the market that will satisfy the needs of all kind of users and the most demanding minds. Before deciding on one model or another, it is necessary to think about its functionality and design. Likewise, we recommend opting for materials that do not require much maintenance and that tolerate inclement weather, such as plastic, aluminium or wood.
Plants
As if they were a decoration element itself, the presence of plants brings life, colour and a lot of elegance to the environments. You can opt for resistant plants or some seasonal ones when it comes to turn your terrace into a green oasis and making it an idyllic outdoor space. The best option is to choose them according to the location and taking into consideration the characteristics of your terrace or balcony, always evaluating aspects such as sun exposure or maintenance.
Decorative lights are a must
Using candles, lamps or chandeliers it is possible to turn your terrace into a romantic and unique space when night falls and the stars take over the sky. Because as you well know, artificial lighting also plays an important role in extending the hours of fun on the terrace. For the rest of the day, you should only focus on enjoying the natural lighting offered by the sun's rays and benefiting from the excellent temperatures of our country.
Accessories and textiles
If you want your terrace become a cosy full of life place, the last advice we allow ourselves to give is to include additional elements. Accessories such as textiles are essential, either through cushions, rugs, tablecloths or blankets. All of them will contribute to create the desired set and shape a dream place thanks to their colours and textures. Along the same lines, I would like to share with you that I have recently carried out a project in Barcelona that has consisted of the design of three apartments and an outdoor terrace in which I have taken into account the tips presented in the article. For this project, I opted to mix Aztec prints, plants and tropical style, all of them perfectly combined to obtain pleasant and fresh spaces.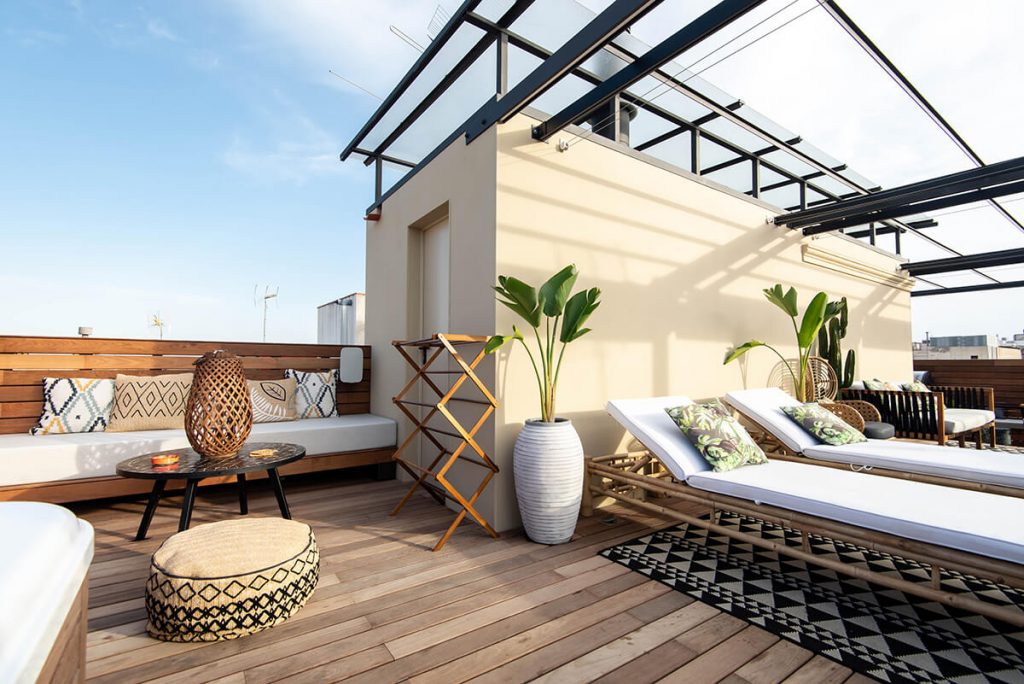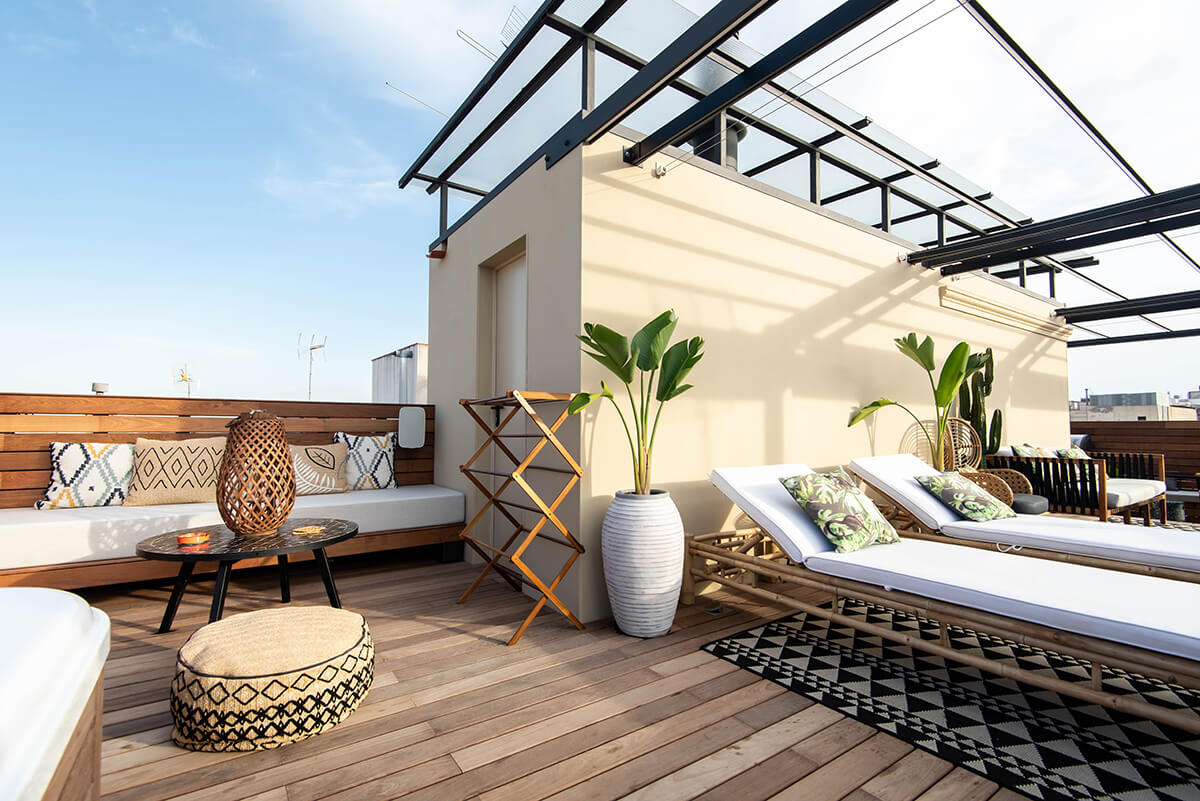 As a specialist in interior design, at Vera Interiors we remind you that the most important thing is to make the most of the space you have available on your terrace. So, if you want to hire an interior designer in Seville, do not hesitate to contact me and you will receive the support and professional accompaniment you need. Adapt your terrace to the arrival of good weather and turn it into a refuge to enjoy the rays of the sun and spend quality time with your loved ones.